Navigating NYC Street Parking Rules when Moving
Moving home, whether long distance or locally, can be a very stressful experience. Those stress levels will increase even more if you're handling the move yourself, particularly in a large and crowded city like New York.
Making a move within New York can be a complicated task and so needs a lot of planning and preparation if it's to be successful. It also needs a lot of patience, especially when dealing with the city's traffic and street parking rules. There are, admittedly, a lot of rules that can change depending on the location, date or time of day, so it is a confusing situation, and you need to be fully aware.
What You need to Know about Street Parking Rules in NYC when Moving
The main considerations are the parking rules at your old and new home, since you need to be able to park your truck while you load and unload. When trying to find street parking in NYC, some of the main rules to bear in mind are:
Parking Signs. The city's Department of Transport manages more than one million traffic signs and you need to be aware of what they mean. NYC street parking signs that indicate there's no parking, stopping or standing may seem self-explanatory but sometimes these restrictions only apply at certain times or on particular days.
Alternate Side Parking. On certain days (such as holidays) and to allow for street cleaning, permitted NYC free street parking may switch from one side of a street to the other. This arrangement can be suspended for emergency or weather conditions, so you need to know what is allowed.
School Zones. When a school's in session, you're not allowed to park within a school zone. This doesn't apply when the school's in recess but there may be days, such as functions or when teachers are in attendance for other reasons, when parking is still banned. So be aware before you park.
Fire Hydrants. To park legally, you must be at least fifteen feet either side of a fire hydrant that's next to the street.
Curb Cuts. If the curb is lowered to allow access to a driveway or similar, you will be causing an obstruction if you park there.
T-shaped Intersections. At these types of intersections, you are allowed to park right up to the stop sign, even if there's a curb cut. However, this doesn't apply if there are crosswalk markings, all way stop signs or traffic lights.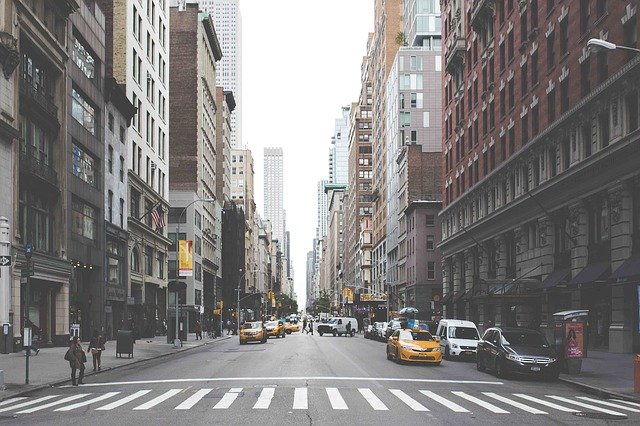 Avoiding Parking Stress on Moving Day
Street parking rules in New York can be extremely confusing due to their large number and their complexity. If you have any doubts about what does and doesn't apply, the city's Department of Transport publishes a useful guide, and you can also call 311 to get the latest information.
A failure to abide by the rules can result in a parking ticket that will cost you money or your vehicle being towed away, which will cost even more. It's therefore a good idea to plan your route and find out in the days before you move where you can legally and conveniently park. On the day of the move, be patient and drive carefully so you don't have any unforeseen incidents that will spoil your day.
Moving can be an extremely stressful experience but you can reduce the stress levels by careful planning and preparation. Even better, you can let a Brooklyn local moving company handle the move for you.
Here at Movers 101, we're used to dealing with moves in New York, we know the parking rules and we are familiar with the city's traffic routes. So we'll make your move go smoothly, with no hold-ups, and ensure you have a totally stress-free day.