Premier NYC Movers With Competitive Prices!
With a combined experience of 30 years in the moving business and a flawless track record, Movers 101 are one of the most trusted names among moving companies in Brooklyn.
Call Us Now & Schedule Your Move
We are a trustworthy Brooklyn moving company, focused on offering personalized relocation services and perfect customer care when it comes to local and long distance moving.
Read More
Get Moving With The Most Affordable Movers in NYC
Whether you're a current or soon-to-be New York resident or you're planning to move out of the state entirely, you'll need movers in New York that you can trust to successfully and confidently transport all of your precious belongings to a new home or office.
Movers 101 stands among the leading affordable moving companies in NYC. Our tireless team can look back over 30 years' worth of combined experience - and we're known for the excellent care and precision with which we deliver our services.
We care about your experience and strive to ensure that all of your items are well-protected throughout their journey. Whatever articles you need us to transport, our expert hire movers in NYC will get them to their destination on time - and without a scratch.
Our Specialist Moving Services
We know what it means to be the premier full service movers in NYC, which is why the team at Movers 101 offers a tailored range of precise, high-quality services to meet the unique needs of any client. Just because you're saving doesn't mean you should expect anything less than perfection!
We have a wealth of local knowledge, and our drivers know the streets of New York City like the backs of their hands. However, you can still make full use of our exceptional services if you're heading out into the wider state or beyond, thanks to our expertise as long-distance movers.
Suppose you need interstate moving companies, such as to New Jersey or moving to sunny Florida. In that case, you can rest assured that your belongings will reach their destination safely.
However, moving with Movers 101 is about so much more than carting truckloads of belongings from A to B - we offer a wide range of bespoke resources to ensure that moving goes as smoothly for you as possible. We know that moving is stressful, so we'll do whatever is required to ease the process for you.
Looking for Superior Moving Companies in NYC?
At Movers 101, we're proud to be among the most versatile full service movers in NYC. Our team members are well-trained and highly skilled in hoisting and crating. We can also provide quality carpentry services. We can even remove your trash for you to make matters quicker and easier!
One particular aspect that places us among the best moving companies in NYC is our superb selection of specialist storage facilities. These super-secure locations are the perfect place to keep your items in order to protect them from theft or damage.
Along with these fantastic services, you can also obtain quality moving supplies from us - including durable, eco-safe boxes to make transporting your items more manageable and safer. We use these exact same containers ourselves - so you know they're of the very best quality.
What Our NYC Movers Can Move for You
Our NYC moving company has years of experience in handling belongings of all kinds - whether your move is a residential or commercial one.
We know that moving delicate office equipment and items belonging to your company can be highly stressful and, without the right equipment and approach, can quickly end in disaster.
Luckily, Movers 101 is among the most experienced and well-organized moving companies in NYC. As a result, we have everything required to carefully transport commercial apparatus, products, and machines from one place to another - whether that's across the city or to a whole new state.
If you have articles that promise to be very difficult to transport, just let us know so we can carefully plan the process. We're great problem solvers!
We're a slick, punctual, and attentive residential moving company too. Your precious items, including art, sculpture, musical instruments (even pianos!), glazed articles, and anything else, will be carefully loaded up and delicately transported to avoid any damage.
If you have any questions about how to pack or transport certain items, just let us know, and we'll provide you with expert advice.
Local Moves in Record Time, Every Time
With all the care and attention we give to transporting your items, you'd think that the process would be slow. However, this is not the case whatsoever.
Whenever you need your move to happen, our team of local movers in NYC will plan the process in such a way that it takes as little time as possible - keeping your belongings safe and protected all the while.
A NY Moving Company with a Perfect Track Record
Throughout their careers as professional movers in NYC, our team members have remained passionate about maintaining their flawless track record and completing a perfect move every time.
All you need to do is look at our many glowing testimonials to see that our services never fail to impress.
Hire the most Experienced & Professional Movers in NYC
Moving house or to new business premises can be exciting because it offers the prospect of a fresh start. But it can also be stressful since there is so much to think about and many things that can go wrong.
At Movers 101, we have a team of the best movers in New York, and we take the stress out of moving because we do so much for you. That means you can concentrate on other things that really matter to you and don't need to worry about the move because we'll deal with everything.
Cheap Movers in New York City - All Types of Moves at Competitive Prices
Whether you're moving a short distance or across states, whether moving a home or a business and irrespective of if it's a big move or just a few items, we're New Yorkers that can handle it. As professional movers in NYC, we have many years of experience in moving all sorts of things between different locations, both near and far such as long distance Manhattan movers, Our other areas include:
moving companies New York to Georgia
And if you need to store some items for a period, possibly while you're between properties, we can handle that too.
We don't claim to be cheap movers in NYC because a reasonable price often means a sub-standard service. That can lead to delays, damaged furniture and an increase in your stress levels, which we want to avoid. So instead, we provide a professional and friendly service that will get you moved on time, with no fuss and at a competitive price.
Get up and Go with The Best Moving Service in New York
Some people move home once or twice in their life and that's it. Others find themselves doing it all too often, going where work takes them, perhaps, or needing a change of climate, joining a new partner, or they're just restless and get bored. Whether you're in the first category or the second, everybody wants the same thing: movers who will make the process easy. You want a firm you can call "NY's best on-time movers", because punctuality is a key part of it. We have combined experience of 30 years as movers in New York, and we have moved people within the city, out of the city and into New York from other places. There is nothing about NYC moving we haven't seen.
How do Great NYC Movers Help People Avoid the Pitfalls?
The best movers in NYC – and we include ourselves in that elite group - take all the stress out of it. There's the planning, the packing, the carrying, the loading, the driving, the unloading, more carrying, more unpacking. And the pitfalls - the things you've never even thought might be problems because you're not an expert in these matters (and probably don't want to be). That's why moving is said to be one of the most stressful things in anyone's lifetime.
Where are You going to get the Boxes for Your NYC Move?
You've got to get boxes to put things in, and they've got to be the right size, easy to carry and strong enough. Some people will take a chance and get some cardboard boxes from the local store, but that's asking for trouble. Banana boxes are good, but cornflakes? Not so much. Ours are strong, tough plastic, with handles - and if you insist on doing your own NYC moving, you can buy some from us. But that will only solve one of your problems.
There is more to this moving business than meets the eye, and with our experience, we can save you from the pitfalls. Say you get a nice big box from the store, and you have it earmarked for all your books. Well, it might just be big enough to do it, but how heavy is it? Can you pick it up without injuring yourself? If it's got holes where you can put your hands, that means you're not supporting the bottom, so is it just going to drop your library down the stairs or outside, in a puddle? And that's just one small example. A top company makes moving in NYC a whole lot easier. We have done hundreds of small moves in NYC and almost as many bigger moves, bigger in terms of quantity and distance.
Get Started with a Free Moving Estimate
If you're interested in using one of the best NYC moving services, why not get in touch for an in-depth consult today? We have free quotes and charge nothing for our specialist advice - so you've got nothing to lose by making contact.
All you need to do is tell us what you need to be moved, where it's coming from and where it's going, and let us know about any specific needs or requests you may have.
Contact The Best Moving Company in NYC Today
However simple or complex your relocation may be, our team of local movers in NYC can help you. Just call us today at 212-317-2358 or use our handy online contact form to send us a query, ask for advice or request a free estimate.
We'd be pleased to help you reach the next exciting step in your life, whether you're moving offices within the city or shifting your entire life to another state.
Read Less
Customer Testimonials
Movers 101 were great! They moved my daughter from her apt in NYC to her 3rd floor walk up in Brooklyn. They were quick, efficient and made the process go very smoothly. They set up everything and made sure we were happy before they left. I highly recommend them!
-
Beth B.

/ Saddle River, NJ / Yelp
About Movers 101
For more than three decades, Movers 101 has been meticulously building a rich reputation as one of the most reliable and affordable moving and storage companies in NYC. Our team goes through extensive training, and uses only the best relocation resources available to offer a unique moving experience to all our customers. We are a small business focused on exceeding any and all customer expectations.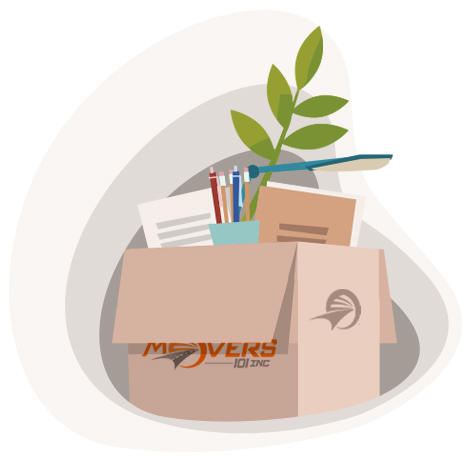 The Moving Process
When you call us, you speak with us – the owners! We answer all your questions and plan your move to fulfill your unique needs, making everything straightforward, simple and easy. We help you meet any challenge, from advanced planning advice to last-minute moves.
We offer consults and detailed moving estimates for free.
Our movers plan in advance and always arrive on time.
We will pack, load and transport everything with care.
Latest News
Do Movers Assemble Furniture? Whether you are moving just across the street or a longer distance away, the main aspects…
We all appreciate a good night's sleep. So when you find a mattress that enables you to fall into a…
Are you looking to set up home near New York City but don't want to pay astronomical prices for rent?…