Commercial & Office Movers Harlem
15% OFF all commercial moves & 60 Day Free Storage during
September, 2023
FREE DETAILED MOVING ESTIMATES

WE WILL PACK, LOAD & TRANSPORT WITH CARE

NEW YORKER OWNED & OPERATED

LOCAL & LONG DISTANCE MOVES

300+ 5 STAR GOOGLE REVIEWS
Trying to Find Commercial Movers in Harlem?
Getting into a new property is always an exciting feeling. You get to reorganize your furniture and decorations or play with the room layout before you get settled in. But unfortunately, this feeling can be ruined if you are stressing out over things like budget and time constraints. The very thought of moving your property can become an annoyance.
A Complete Service from Movers 101 – Professional Office Movers in Harlem
Is your office currently in Harlem, and are you in the process of moving to another location? Or perhaps you are moving to a new office in Harlem? Whether you are moving to or from Harlem, Movers 101 is the commercial movers in Harlem for you. We offer you a complete service that includes planning your move, packing, transporting, and unloading your office equipment so that you have a stress-free moving journey.
All too often, a move can be stressful. If you have moved to a new house or office before, you may have experienced some of this stress, but choosing the right NYC moving company can help to ensure that everything is smooth sailing.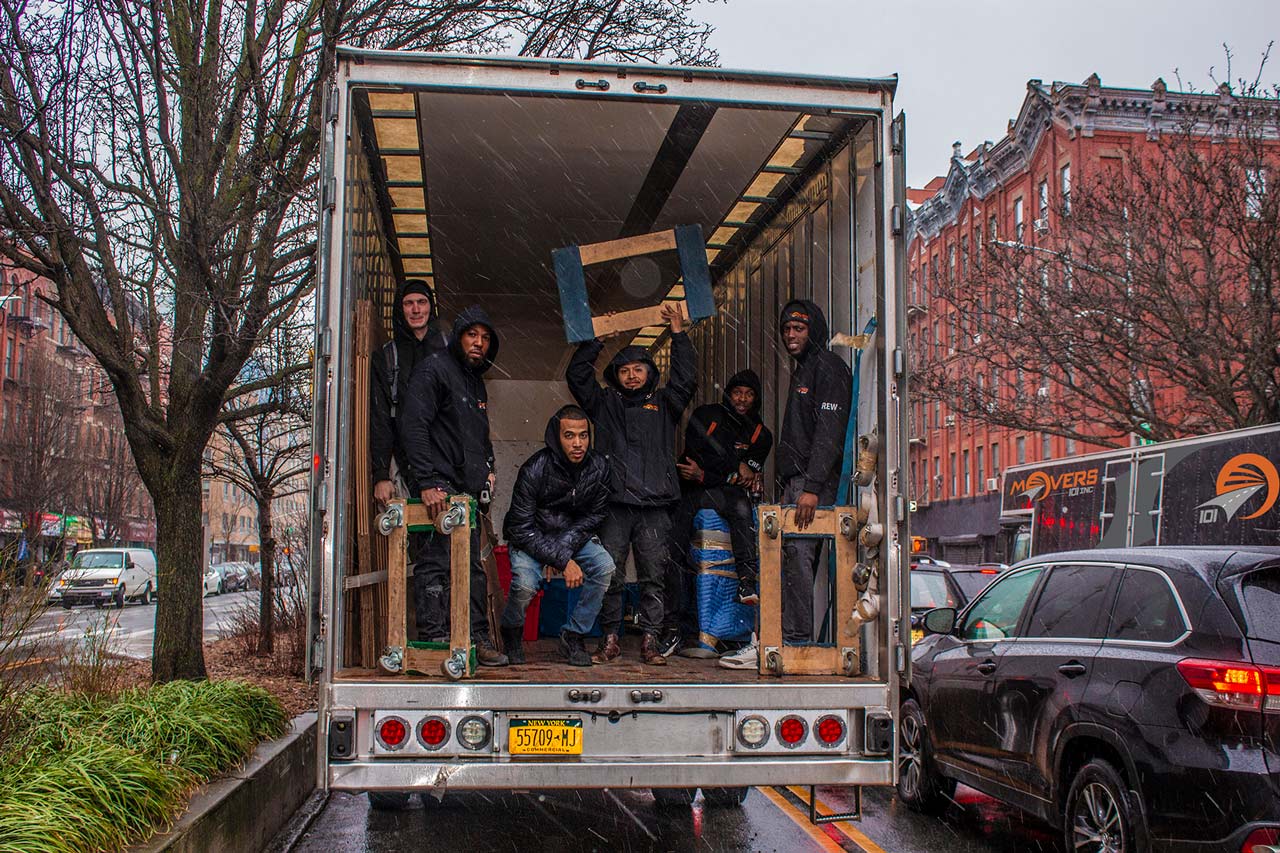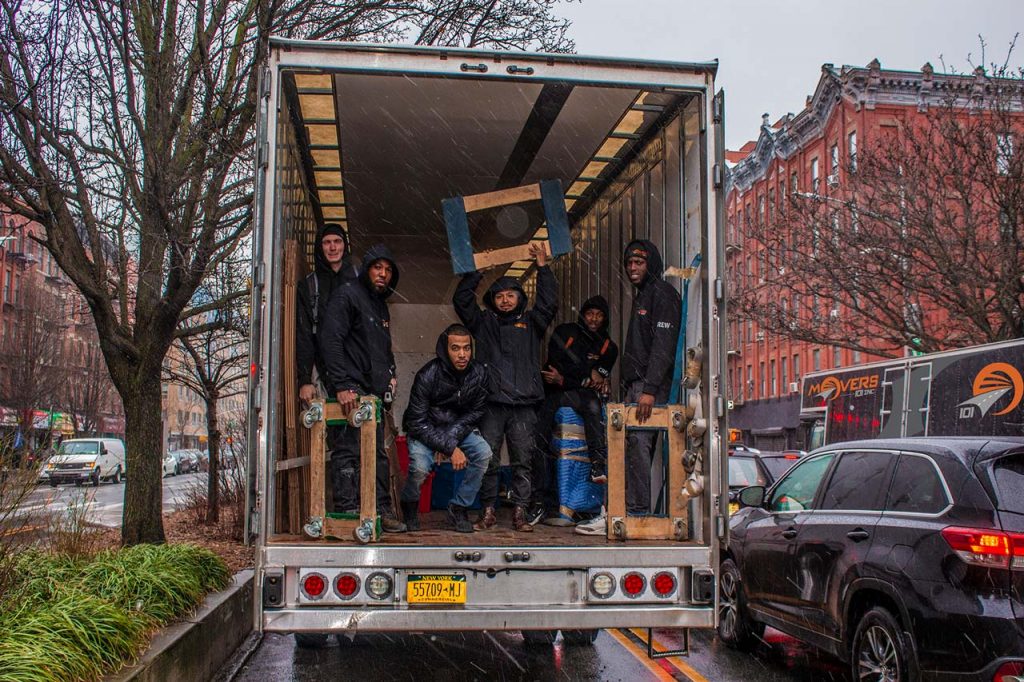 Our Harlem movers are committed to making sure the job is done right. And to achieve that, they will devote 100% of their time and energy to your move!
We're the Best Commercial Movers in Harlem
One thing that you should look out for when looking for office movers in Harlem is experience. Why? Experienced movers know what to look out for, and they plan for almost every eventuality, so should anything go wrong, they know what to do to put it right. The Movers 101 team have over thirty years of experience between them, which is what helps us to give you a stress-free move.
One of our top priorities for your move is the planning stage. While the move itself may appear to take hardly any time at all, we can only do this by planning to the very last detail. We plan a route that is both practical, and we will get your equipment to your new office quickly.
Planning is especially important when you are moving long-distance and might be crossing many state lines. Let Movers 101 take care of all the planning for you so that you can concentrate on the rest of your work. By planning, we can make sure that your move goes ahead without unnecessary and timely delays.
As a company based in New York, we know the city well, and this means that we can plan the most sensible and direct routes to your new premises, and we are able to make any last-minute changes that are needed, for example, if there are any road closures.
Read More
Need An Expert Moving Company in Harlem?
Whether you're looking for business movers and relocating your office and looking into Harlem, or out of Harlem, Movers 101 will deliver you a professional and efficient office move. Moving is supposed to be fun and exciting, but the stress of time constraints and budget can quickly turn it into a panicky disaster. But not with one of the best moving companies in Harlem.
While you focus on your business, let us focus on relocating your possessions. We offer a complete package to help you get from A to B with no added stress for you. We can pack, load, and unload the boxes. Heavy lifting involved – perhaps desks and machinery? We have a team of experts and the equipment to make light work of it.
If your items are fragile, valuable, or need extra special care during transit, then we're the team for you. Every member of the Movers 101 (best interstate moving company) team has completed training to a high standard in these areas.
Moving Company in Harlem – Make Moving A Breeze With us
The hard work that comes with moving an office can overshadow what should be an exciting time. We're not a moving company in Harlem that does the bare minimum. We give 100% dedication to making your move go as smoothly as possible. Each project is given a customized and detailed plan of action – this is the most important stage. It means that we can ensure your move goes according to plan, without delay.
We're one of the best moving companies in Harlem that get the job done, hassle-free. But don't just take our word for it. Our customers have left over 300 glowing 5* reviews expressing just how satisfied they were with our services.
If you're moving into, out of, or around Harlem – make Movers 101 your moving company in Harlem. To get your personalized quotation, just fill in our online inquiry form and a member of the team will reach out with your quote. Moving can be an amazing experience, let Movers 101 show you how it's done! Our other areas and services include
Contact Our Harlem Office Movers Today!
Along with planning your move and helping to pack, load, transport, and unload at the other end, we can also offer storage facilities for when they are needed. Secure storage is a must, and our storage services offer you a place where your office equipment will not come to any harm and will be ready for you when you need it.
We can also disassemble furniture and reassemble it for you when you reach your new office. It is the little things that make the difference. This is what makes us the best moving company in harlem.
To find out more about why our existing clients have loved using our services, read our outstanding reviews.
For a free consultation and moving estimate, do not hesitate to contact us today and discover what we can do for you and your business. Call us today or fill in our online contact form, and we will get back to you.
I was referred to Movers 101 by a friend and I am glad I used them. They helped me pack and moved everything for me to my uptown apartment. I hate moving and was dreading the aches and pains that come with it. Movers 101 were very professional. They came with their own boxes, wrapped all my breakables and unpacked everything for me. I didn't lift a thing and their prices were reasonable. I would recommend them to others