Commercial & Office Movers Upper Manhattan
15% OFF all commercial moves & 60 Day Free Storage during
December, 2023
FREE DETAILED MOVING ESTIMATES

WE WILL PACK, LOAD & TRANSPORT WITH CARE

NEW YORKER OWNED & OPERATED

LOCAL & LONG DISTANCE MOVES

300+ 5 STAR GOOGLE REVIEWS
Trying to Find Commercial Movers in Upper Manhattan?
Getting into a new property is always an exciting feeling. You get to reorganize your furniture and decorations or play with the room layout before you get settled in. But unfortunately, this feeling can be ruined if you are stressing out over things like budget and time constraints. The very thought of moving your property can become an annoyance.
Professional Office Movers in Upper Manhattan
If you are planning an office move into or out of Upper Manhattan, finding a reliable moving company should be your number one priority. With the best moving company, your journey can be smooth and stress-free because the moving experts can do the hard work for you.
At Movers 101, our office movers in Upper Manhattan will ensure that your relocation goes well. As a trustworthy, professional company that puts our client experience at the top of everything we do, we are your one-stop-shop for your moving solution.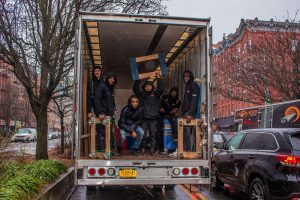 Our Upper Manhattan movers are committed to making sure the job is done right. And to achieve that, they will devote 100% of their time and energy to your move!
We're the Best Commercial Movers in Upper Manhattan
Your business is like no other, and here at Movers 101, we recognize that. It also means that your relocation will be like no other as well. It is for this reason that we offer a personalized relocation service that caters to your needs.
Whether you are moving a short distance or right across the USA, we can help you to pack your furniture and equipment, transport it safely and then unload it at your destination.
One of the biggest parts of our job is planning your move so that we cover almost any eventuality and make your move as trouble-free as possible. Our team knows New York City well, and this means that we can plan the best routes to take when you are moving within the city and have the experience and knowledge that only New Yorkers would be aware of.
We are also there for you when you are moving further afield or coming to Upper Manhattan from somewhere else in the USA. With full support available, your move is in the best hands.
Should you require any storage of your office equipment, we can sort that for you and provide you with secure storage solutions.
Need Office Movers in Upper Manhattan?
If you are looking for commercial movers in Upper Manhattan, look no further than Movers 101 for an outstanding service that meets or even exceeds your requirements. With our planning, as well as carefully packing, transporting, and unloading your equipment, you can focus on the day-to-day running of your business and leave the moving details to us.
Our customers' reviews speak for themselves, and it is not hard to see why our existing clients have loved using our relocation services.
We can also provide everything you need for your move, including strong and sturdy boxes that are also eco-friendly, so you can feel good about the materials you are using. Should you need any help with disassembling furniture or other commercial equipment for your move or reassembly, we can also support you with that.
When you call us, you speak to us, the owners, and you can benefit from our experience. Collectively, our team has thirty years of experience, and this means that we can provide you with the best possible service.
To get a free consultation and moving estimate, give us a call today or fill out our online form, and we will get back to you as soon as possible.
I was referred to Movers 101 by a friend and I am glad I used them. They helped me pack and moved everything for me to my uptown apartment. I hate moving and was dreading the aches and pains that come with it. Movers 101 were very professional. They came with their own boxes, wrapped all my breakables and unpacked everything for me. I didn't lift a thing and their prices were reasonable. I would recommend them to others