Long Island Office Movers
15% OFF all office moves & 60 Day Free Storage during
December, 2023
FREE DETAILED MOVING ESTIMATES

WE WILL PACK, LOAD & TRANSPORT WITH CARE

NEW YORKER OWNED & OPERATED

LOCAL & LONG DISTANCE MOVES

300+ 5 STAR GOOGLE REVIEWS
Make Moving Easy with the Best Office Movers in Long Island
Getting ready for moving to a new office is serious business. But don't worry, Movers 101 is here to help make the whole experience as easy as it can possibly be.
We're the best choice for moving your office furniture and equipment because our Long Island office moving are experienced and knowledgeable about how to properly move all these things. This kind of equipment can have special requirements for moving that are different from ordinary household furniture and equipment.
For one thing, office equipment will typically have a higher value than an item in the same category designed for home use. This equipment also is often sensitive and may be easily damaged if not handled properly. That is a good reason to make sure the Long Island office moving who handle this job for you are knowledgeable about the requirements, and able to perform the task safely.
Movers101 takes the worry out of the move, so you can focus on getting on with business.
How We Simplify Office Moving in Long Island
We care about making sure your move goes smoothly and safely. We ensure this by having a great team of experienced Long Island office movers, reliable trucks, an excellent maintenance program, and the best technology to assist our movers with their job.
Next, we make sure that we do everything properly. This eliminates the risk of mistakes, and that means fewer delays and problems. With the sort of traffic problems often experienced in New York City, you will probably already know why delays are best avoided.
Our movers also know the best ways to move around traffic when those delays happen. This is based partly on experience and partly on assistance through the technology available. This technology can provide real-time information advising of conditions ahead so the movers can be ready to plan a better route.
Putting sufficient emphasis on safe handling means you no longer need to worry about damage to your valuable items. We respect every shipment. Also, we have full insurance with $3 million of coverage, so you can relax with even more peace of mind. When you move with Movers 101, you move with confidence.
All the Help You Need for your Long Island Office Move
Moving a business takes careful planning and timing. Ideally, there should be the least possible interruption the normal day to day operations of the business. When everything goes perfectly, your customers and suppliers shouldn't even really notice any major differences between the moment you closed before the move and the moment you open after the move.
It's part of our job at Movers 101 to help make that happen. If you need help to plan your move, we will be happy to assist. We can also provide the moving supplies you need such as packaging materials, tape, markers, and other things of that nature. We can even provide instructions on the best way to pack, and things to watch out for when packing.
Avoiding all the common packing problems during the early stage of the move means the rest of the move is likely to go just as well.
Hire Movers 101 to be Your Long Island Office Movers
Call us when you're ready to move. Or leave a message on our web form. We'll get back in touch as quick as we can. You can rely on Movers101 for the best service and highest standards in Long Island office moving, whether it's a local or long distance move.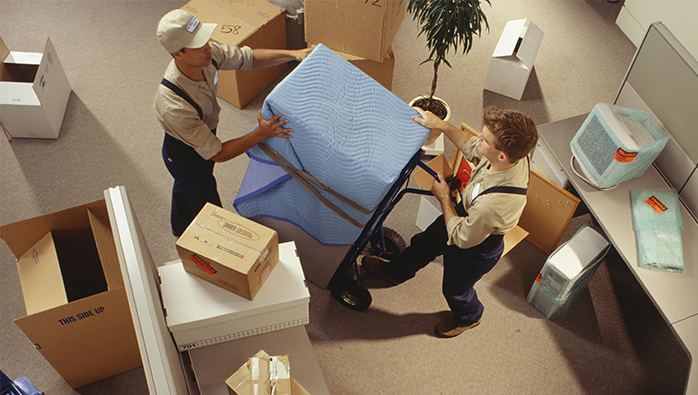 Movers 101 were great! They moved my daughter from her apt in NYC to her 3rd floor walk up in Brooklyn. They were quick, efficient and made the process go very smoothly. They set up everything and made sure we were happy before they left. I highly recommend