Brooklyn Office Movers
15% OFF all office moves & 60 Day Free Storage during
September, 2023
FREE DETAILED MOVING ESTIMATES

WE WILL PACK, LOAD & TRANSPORT WITH CARE

NEW YORKER OWNED & OPERATED

LOCAL & LONG DISTANCE MOVES

300+ 5 STAR GOOGLE REVIEWS
Office Movers in Brooklyn
When the time for relocation comes, it is quite common for stress levels to rise substantially. There is simply so much work to be done and so many factors to consider. This is just one of the many reasons people choose to hire a professional office moving company, like ours, to handle their relocation. This is especially true if they are planning to move offices in Brooklyn.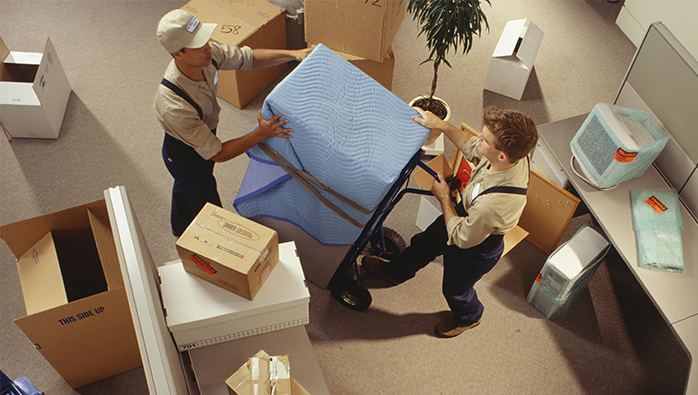 Movers 101 – Leading Office Movers in Brooklyn
We're proud to stand among the top Brooklyn office movers thanks to the rigorous training undertaken by our team members and the care and attention that we give to each project and every item that we transport. Despite meticulously planning every move and approaching each journey with significant attention to detail, we're still able to complete all processes with super-quick speed and efficiency.
Our track record is flawless, and we intend to keep it that way – so you can achieve perfect peace of mind knowing that your equipment is in the very best hands.We know that moving to a new office space can be significantly more complex than moving from one residential property to another, not least because you are transporting items that do not technically belong to you but to the business for whom you work. It's also clear to us that many of the articles that are to be moved may be one of a kind, extremely expensive or very easy to damage. Luckily, we have a wealth of experience in commercial moving within New York City and beyond.
Read More
Our Brooklyn Moving Services
You can also count on us to provide safe, secure storage facilities should your items need to be kept in a separate location for any amount of time. All of our facilities are carefully selected, and we'll take it upon ourselves to make sure all items are carefully stored and properly protected, so you won't need to worry.
Any Special Requirements When Moving Office in Brooklyn?
If any of the items that require transporting are particularly delicate, precious or difficult to move, never fear. We aren't one of the most trusted office moving companies in Brooklyn for nothing. Simply give us all the details you have to help us plan the move in as much detail as possible, and we'll do the rest.
Moving large amounts of cumbersome items from the top of a high-rise office block may sound extremely difficult, but with long experience of providing our expert services in the heart of New York City, we've developed highly effective systems to ensure that the process is completed swiftly, safely and easily. We're highly experienced in the transportation of pianos and other musical instruments, antiques, framed artworks, sculptures and other articles that are easily damaged. Our approach is a delicate one – after all, we want your belongings to arrive at their destination in perfect condition. Leave it to us – all of your most precious belongings will reach their destination on time and in perfect condition. We never fail.
Need Office Movers in Brooklyn? Talk to Us Today
We know that every move is different. Get in touch with our Brooklyn office movers at Movers 101 today to discuss yours. However complex it may seem, we'll be able to make a plan in order to complete your move quickly, efficiently and with everything in one piece. We'll get your items to their destination in record time, resulting in as little interruption to your business processes as possible.
We also offer expert residential moving services, whether you're planning a local relocation or a long-distance interstate move. Call us on 212-317-2358 or fill out the contact form on our site for a free estimate, to make an enquiry or to ask advice. Be sure to provide as many details about your move as possible so that we can answer you as thoroughly and helpfully as possible.
Contact us today to get your Brooklyn office move underway. We look forward to helping you relocate!
Read Less
Movers 101 were great! They moved my daughter from her apt in NYC to her 3rd floor walk up in Brooklyn. They were quick, efficient and made the process go very smoothly. They set up everything and made sure we were happy before they left. I highly recommend