Office Movers NYC
15% OFF all office moves & 60 Day Free Storage during
July, 2022
FREE DETAILED MOVING ESTIMATES

WE WILL PACK, LOAD & TRANSPORT WITH CARE

NEW YORKER OWNED & OPERATED

LOCAL & LONG DISTANCE MOVES

300+ 5 STAR GOOGLE REVIEWS
Office Movers in Brooklyn, New York City
When the time for relocation comes, it is quite common for stress levels to rise substantially. There is simply so much work to be done and so many factors to consider. This is just one of the many reasons people choose to hire a professional office moving company, like ours, to handle their relocation. This is especially true if they are planning to move offices in NYC. Are you one of the many people looking for office movers in New York City you can trust? If you are, then Movers 101 have the team of office movers NYC experts you want to get in touch with!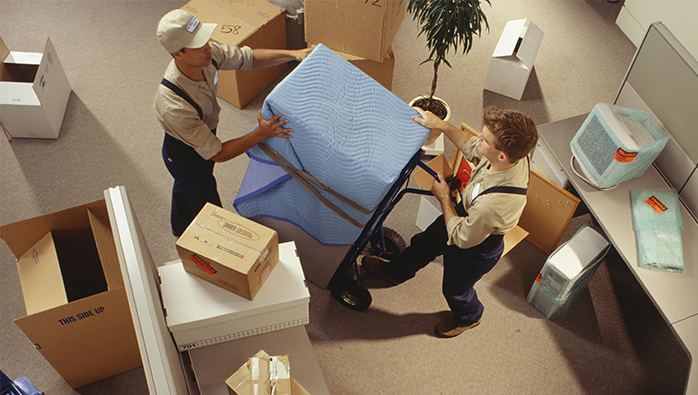 Movers 101 – Leading Office Movers in Brooklyn
Looking for expert large or small office movers in NYC? Whatever the scale of your relocation may be, the team at Movers 101 has a wealth of experience to draw upon to make it happen.
We're proud to stand among the top Brooklyn office movers thanks to the rigorous training undertaken by our team members and the care and attention that we give to each project and every item that we transport.
Despite meticulously planning every move and approaching each journey with significant attention to detail, we're still able to complete all processes with super-quick speed and efficiency.
Our track record is flawless, and we intend to keep it that way – so you can achieve perfect peace of mind knowing that your equipment is in the very best hands.
We know that moving to a new office space can be significantly more complex than moving from one residential property to another, not least because you are transporting items that do not technically belong to you but to the business for whom you work.
It's also clear to us that many of the articles that are to be moved may be one of a kind, extremely expensive or very easy to damage.
Luckily, we have a wealth of experience in commercial moving within New York City and beyond.
Our NYC Office Moving Team
The moving specialists at Movers 101 can look back at 30 years' worth of combined experience in the office moving industry as well as extensive training and practice in the use of all of our high-performance equipment.
Along with the careful transportation of items from one location to another, our expert office movers in NYC are skilled in hoisting and crating as well as specialist carpentry. They'll even remove trash on your behalf to give you one less thing to worry about and to help you leave your old space spotless.
All of our staff members are friendly, helpful and proactive. They know their way around New York in great detail, but they're also highly experienced in transporting items much further afield.
Whoever is helping you with your move, if they're from the Movers 101 family, they'll be happy to answer your questions, give any advice required and provide a service that is a credit to their employers.
Read More
Our NYC Office Moving Services
Movers 101's expert office movers in New York will ensure that all of the items and equipment you wish to transport will always be fully protected and intelligently loaded into suitable vehicles in the most sensible order possible.
We understand that many companies use valuable, unique tools and apparatus in order to operate, so everything you ask us to move will be treated with the utmost care. Please let us know if you have any particularly unusual items for us to move, so that we can plan in advance.
Our team can transport items long distance, including across state lines, and our track record in this area is just as perfect as it is for short distance removals.
In addition to our moving services, we can also supply sturdy, high-quality boxes that you can use to safely pack away all of your items ready for transportation. These containers are eco-friendly – so you won't need to worry about your environmental impact – and they're precisely the same boxes we use ourselves.
You can also count on us to provide safe, secure storage facilities should your items need to be kept in a separate location for any amount of time. All of our facilities are carefully selected, and we'll take it upon ourselves to make sure all items are carefully stored and properly protected, so you won't need to worry.
Any Special Requirements When Moving Office in NYC?
If any of the items that require transporting are particularly delicate, precious or difficult to move, never fear. We aren't one of the most trusted office moving companies in NYC for nothing.
Simply give us all the details you have to help us plan the move in as much detail as possible, and we'll do the rest.
Moving large amounts of cumbersome items from the top of a high-rise office block may sound extremely difficult, but with long experience of providing our expert services in the heart of New York City, we've developed highly effective systems to ensure that the process is completed swiftly, safely and easily.
We're highly experienced in the transportation of pianos and other musical instruments, antiques, framed artworks, sculptures and other articles that are easily damaged. Our approach is a delicate one – after all, we want your belongings to arrive at their destination in perfect condition.
Leave it to us – all of your most precious belongings will reach their destination on time and in perfect condition. We never fail.
Need Office Movers in NYC? Talk to Us Today
We know that every move is different. Get in touch with our NYC office movers at Movers 101 today to discuss yours.
However complex it may seem, we'll be able to make a plan in order to complete your move quickly, efficiently and with everything in one piece. We'll get your items to their destination in record time, resulting in as little interruption to your business processes as possible.
We also offer expert residential moving services, whether you're planning a local relocation or a long-distance interstate move.
Call us on 212-317-2358 or fill out the contact form on our site for a free estimate, to make an enquiry or to ask advice. Be sure to provide as many details about your move as possible so that we can answer you as thoroughly and helpfully as possible.
Contact us today to get your NYC office move underway. We look forward to helping you relocate!
Read Less
I was referred to Movers 101 by a friend and I am glad I used them. They helped me pack and moved everything for me to my uptown apartment. I hate moving and was dreading the aches and pains that come with it. Movers 101 were very professional. They came with their own boxes, wrapped all my breakables and unpacked everything for me. I didn't lift a thing and their prices were reasonable. I would recommend them to others